Khatima: The development you have seen so far was a trailer, the film is yet to start: Nitin Gadkari
Chief Minister Dhami described Union Minister Nitin Gadkari as a person who brought revolution in the field of road connectivity
Union Road and Transport Minister Nitin Gadkari while praising Chief Minister Pushkar Singh Dhami said that "Young Chief Minister is not only smart in appearance but also in work".
Rudrapur/Dehradun : Union Road and Transport Minister Nitin Gadkari said in a program organized at Tharu Government Inter College that Uttarakhand is said to be the land of Gods (Dev Bhumi) in the whole country. The people of the country and abroad consider Uttarakhand as a God's land (Dev Bhumi) and the people of the state as god. Badrinath, Kedarnath, Gangotri, Yamunotri are the symbols of our faith, reverence. He said that people come here not only from Uttarakhand but from all over the world. The origin of our holy Ganges is also in Uttarakhand and it has been my good fortune that I got the responsibility of making the Ganga Aviral and Nirmal and it is being worked by me in Namami Gange Project for Aviral Nirmal Ganga worth Rs 25000 crores, of which 80 Percentage work was completed during my tenure.
He told that whenever he used to come to Uttarakhand as party president, everyone used to say that if our roads improve, Uttarakhand will develop. America President John Kennedy had said that America is rich, because of this the roads are not good, but the roads here are good, due to which the country is rich. When I got the Road and Transport Ministry under the leadership of PM Modi, I had decided that I will give two lakh crore rupees to Uttarakhand, the development you have seen so far was a trailer, the film is yet to start. I would only like to say that from 2014 to 2021, we have built 21 hundred kilometers of new roads and have done the work of strengthening it. He said that in 2022, the work of 123 km of road upgradation will be awarded and work of Karna will be done in about 1353 km of road. He said that by 2024, work of 2500 kms will be completed and work worth two lakh crores will be completed.
Khatima is important from the point of view of tourism in the coming times, this area will be on the world map in the coming times. He said that those going to Kailash Mansarovar Yatra go through this route and I assure you that within 1 year from today you will be able to go on Kailash Mansarovar Yatra on all roads, I will make the road for you. He said that connectivity has been done from Tanakpur to Pithoragarh, road construction work is going on from Pithoragarh to Lipulekh, a road construction work is going on from Tanakpur to Lipulekh, it is 376 km and 5000 crores are being spent on it. From here you can go straight to Mansarovar. 162 km from Tanakpur to Pithoragarh 125 km has been completed by spending Rs 1640 crore and rest work will be completed by 2022. Pithoragarh to Lipulekh 204 km is spending 31 hundred crore, this work is being done by BRO and it The work will be completed in 1 year.
Announced the widening of the road up to Simli-Munsiyari-Jauljibi-Gwaldam and said that this project has been included in the Bharatmala project, on which 6 thousand crore rupees are being spent. For the construction of Khatima Ring Road, the construction of Tedhaghat via Paheniya bypass via Chakarpur-Kalapur will be taken up under Bharatmala project. Khatima to Puranpur road will be made NH, NOC will be cleared from Khatima intersection to Tharu Vikas Bhawan. A bypass will also be built from Pilibhit road to Tanakpur road. Announced the construction of greenfield new bypass from Nazimabad to Afzalgarh, construction of bypass from Haldwani to Kathgodam and Lalkuan, Haldwani-Gwaldam road construction.
Express Highway has been made from Delhi to Meerut. 8 got a chance to visit Christians on this occasion many times, earlier it used to take 4 hours, now people come to Delhi in 40 minutes. He said that Delhi has come closer with road connectivity, work of 35 km Askot-Lipulekh road construction has started at a cost of 603 crores. A 2-lane DPR has been prepared from Rameshwar to Almora, whose work will be started in the next 6 months. A 250 km all-weather road is being built from Haldwani to Karnprayag. He said that after two years from today, no one would like to travel from Dehradun to Delhi by any flight. In the coming time, work is also being done to increase the speed of the trains. Along with this, he gave detailed information about the works being done in the road construction sector and the proposed works.
The Union Road and Transport Minister Gadkari while praising the Chief Minister Pushkar Singh Dhami said that the young Chief Minister is not only smart in appearance but also in work. He said that with the construction of roads, the state would further strengthen its unique identity in the field of tourism. He said that new employment opportunities would also be available in the tourism sector.
During this, while addressing the gathering, Chief Minister Shri Dhami described Union Minister Nitin Gadkari as a person who brought revolution in the field of road connectivity. He said that the development that has taken place in the field of roads by working as your minister is not hidden from anyone. He said that today Shri Gadkari ji has given a new dimension to the definition of road connectivity in the country. He said that your journey to develop roads and infrastructure started from Maharashtra continues even today and every state of the country is benefited from your plans. Happening. He said that respected Nitin Gadkari ji is a people's leader working with the vision and the work of construction of roads, expressways and flyovers in the country has never been done before under your direction. Chief Minister Pushkar Singh Dhami gave detailed information about the work being done by the government. In the program, checks worth Rs. 213.50 lakh were distributed to 166 self-help groups by the Department of Cooperation. During this, Union Minister of State for Defense and Tourism Ajay Bhatt, BJP State President Madan Kaushik also gave their views.
In the program, Cabinet Minister Yatishwaranand, MP Locket Chatterjee, MLA Prem Singh Rana, Kailash Gahtori, Minister of State Suresh Parihar, Dan Singh Rawat, District President Shiv Arora, Bharat Bhushan Chugh, Jyoti Prasad Gairola, DIG Nilesh Anand Bharane, District Magistrate Yugal Kishore Pant, Regional public including SSP Dalip Singh Kunwar, Chief Development Officer Ashish Bhatgai were present.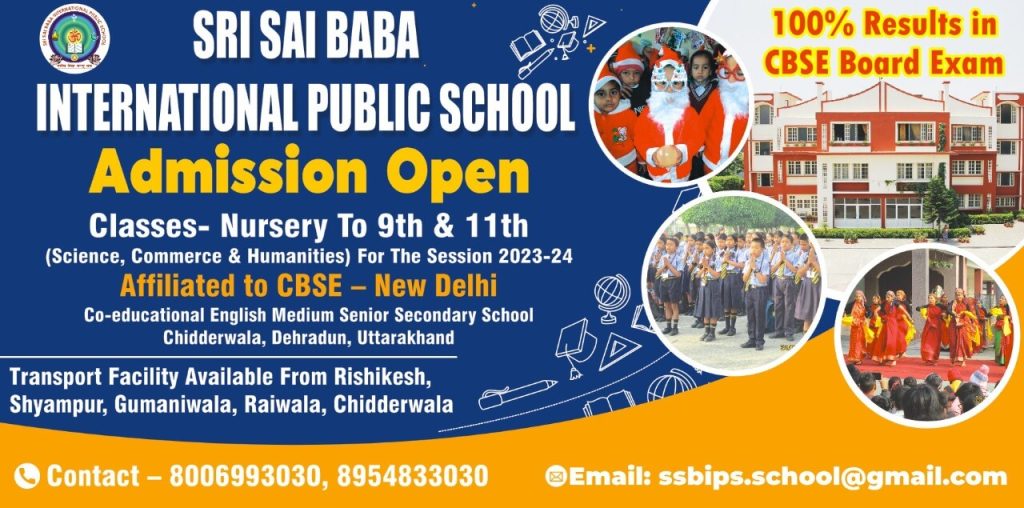 To get latest news updates -