Uttarkashi: I can't even imagine that a Chief Minister can do so much work in 6 months: Rajnath Singh, Defense Minister
Inauguration and foundation stone of various schemes worth Rs. 111 crore 14 lakh were laid in the district by both Rajnath Singh and CM Dhami 
Can't even imagine that a Chief Minister can do so much work in 6 months. Chief Minister Dhami has not only made announcements but also implemented them: Rajnath Singh, Union Defense Minister
Uttarkashi : Union Defense Minister Rajnath Singh and Chief Minister Pushkar Singh Dhami jointly inaugurated and laid the foundation stone of various schemes worth Rs.111 crore and 14 lakh.  In which various schemes worth Rs 47 crores 5 lakhs were inaugurated and foundation stones of various schemes worth Rs 64 crores 9 lakhs were laid.
On this occasion, Chief Minister Pushkar Singh Dhami expressed his gratitude to the people by expressing happiness over the presence of huge crowd despite the bad weather. Chief Minister Dhami said in his address that Vijay Sankalp Yatra will be successful only when we all walk step by step. He said that Vijay Sankalp Yatra is not a personal journey but a collective journey of Uttarakhand. This yatra has been organized to accelerate the pace of development of the state so that our government can get the blessings and support of the people and we can work further for the development of the state. He said that we want to work. Want to take the state of Uttarakhand forward. Chief Minister Dhami said that whatever time I have got to serve the state as Chief Sevak. I have dedicated my time to the public. Many decisions were taken by me continuously in the public interest. Not only were the decisions taken by me, but most of the decisions and announcements were also mandated and finances were approved. He said that whether it is Asha workers, whether it is Bhojan Mata, whether it is PRD, whether it is sub-employee, whether it is state agitators or whether it is a matter of new sports policy related to sportspersons, we have issued mandates for all.
He said that it has also been decided by us to fill 24 thousand vacant government posts, under which the process of filling up most of the vacant posts is in progress. Priority was given to the speedy resolution of public grievances and problems and the process of simplification was adopted to ensure that the work is done expeditiously, for which the responsibility of the officers was ensured. He said that we also took important decisions in the interest of the students. Applications for competitive exams are currently made free of cost. As per my earlier announcement, under the process of giving free tablets to the students pursuing 10th, 12th, and higher education, I have started the work of putting an amount of Rs. 12 thousand in their accounts through DBT. He said that we are working with the goal that when our state turns 25, then our state will be the best state of the country.
On this occasion, Chief Minister Dhami made several announcements, including making the mythical and historical Ramlila Maidan a mini stadium, construction of a beautiful Aastha Path on the banks of the Ganges from the main market Kali Kamli Dharamsala to Gangotri, beautification of Tambakhani tunnel, mobile phones in Gajana region. To overcome the problem of network and run roadways buses till the marginal area Kamad, construction of road up to Mukhwa-Jangla and Mukhwa Markandey of Maa Ganga, GNM/ANM center at Netala has been developed for women development and women entrepreneurship. Announcement that the building of engineering college located in Baun village will be put to good use after talking to the residents, construction of motor road from Digthaul-Panchangaon motor road to Raika Bhatwadi in Dhanari and beautification of ancient faith center Shri Shakti and Vishwanath temple. Are included. Chief Minister Dhami also expressed gratitude on the arrival of Defense Minister Rajnath Singh in the state.
On this occasion, Defense Minister Rajnath Singh praised Chief Minister Dhami and said that Dhami has done charismatic work during his tenure of 6 months. He said that I cannot even imagine that a Chief Minister can do so much work in 6 months. Chief Minister Dhami has not only made announcements but also implemented them. The Defense Minister said that we have respect for Uttarakhand because the soldiers of this state have made an important contribution in the defense of the country. Describing the achievements of the Central Government for seven and a half years, the Defense Minister said that under the leadership of Prime Minister Narendra Modi, the prestige of the country has increased on the international stage. At present, our country is not only listened seriously on the international stage but it is also implemented by the world. He said that Vijay Sankalp Yatra has been organized with the objective that what we want to do for the state of Uttarakhand in future. He said that we want to make Uttarakhand an ideal state. This is possible only when the government of Uttarakhand state will get the support and blessings of the people of Uttarakhand.
Minister of State for Defense Ajay Bhatt, BJP State President Madan Kaushik, Tehri MP Mala Rajyalakshmi Shah, Yamunotri MLA Kedar Singh Rawat and other dignitaries were present on the occasion.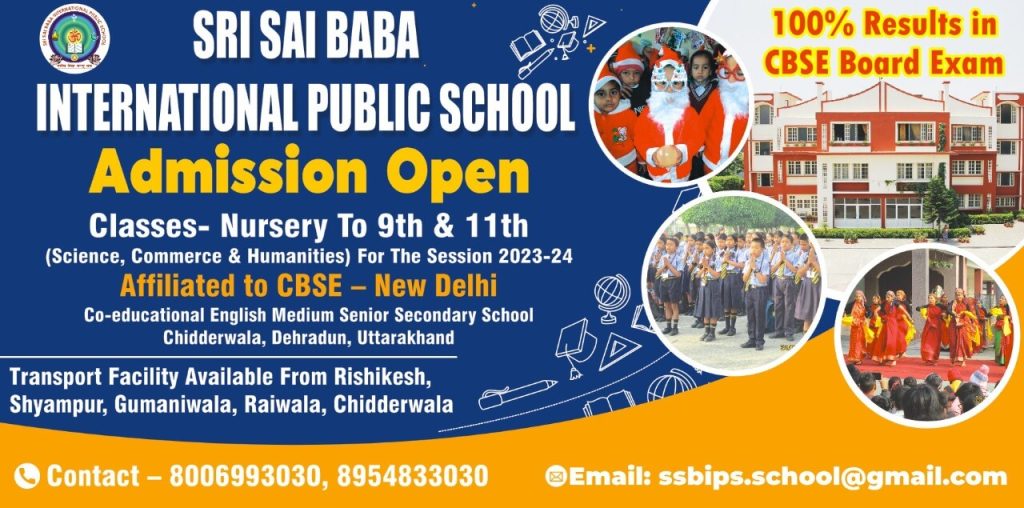 To get latest news updates -