Rishikesh: White Coat Ceremony organized for the first time in AIIMS, MBBS session duly inaugurated
Rishikesh: The White Coat Ceremony was organized at All India Institute of Medical Sciences (AIIMS) Rishikesh on Monday. With this, the new session of MBBS was formally started in the institute.
During this, the chief guest Delhi AIIMS Director Professor M. Srinivas said that till the achievement of their goal, students should focus their entire time on their subject and their goal should be clear during studies. He said that for medical students, not four-G, five-G but three-G i.e. God, Guru (their teachers) and gratitude (gratitude towards patients) is most important. The MBBS new session at AIIMS Rishikesh formally began on Monday, with the first-ever White Coat ceremony being held at the Institute's auditorium.
In the ceremony, 125 students of MBBS 2022 batch were inducted into the medical field by giving them white coats. On this occasion, the Chief Guest, Director, AIIMS Delhi, Professor M. Srinivas called upon the medical students to focus their full time on the curriculum and focus on academics as well as practical education to achieve the goal.
He said that despite being a medical profession, it is very important to maintain faith in God and set a goal in life. He said that it is necessary to have a good teacher for better knowledge of his/her subject, so students should have devotion towards their teachers. He told the students that while we grow up in life, we should also have a sense of gratitude in our nature. We should be determined to do good work in life. Encouraging the students, he said that they should be proud that they have been selected in Rishikesh in such an AIIMS institute of the country which has its own unique identity among the AIIMS institutes established across the country.
The Guest of Honour, Professor PK Vedanthan, Pediatric Allergist & Immunologist, USA congratulated the students for taking up the medical field and said that this profession is dedicated to the service of humanity. That's why we have to devote our whole time to the treatment of patients for the service of humanity. Sharing his experiences, he also said that we not only have to learn from our teachers but also take inspiration from all the other people who have dedicated their lives for the service of mankind. The doctor's nature should be completely humble with experienced discretion.
On this occasion, Professor Dr. Meenu Singh, Executive Director of the institute told that for the first time, White Coat Ceremony is being organized in AIIMS, Rishikesh. The purpose of which is to make the selected students in MBBS aware of the medical service from the very first day itself. Keeping this in mind, take a pledge of dedication along with studies.
And when he/she completes his/her studies, increase the prestige of AIIMS, Rishikesh by providing high quality medical services in the country and the world. On this occasion, Medical Superintendent of the Institute, Prof. Sanjeev Kumar Mittal gave detailed information about various health services being operated at AIIMS Rishikesh. He told that during the Covid period, the Doctors, Nursing and other personnel of the institute provided services to the patients with dedication. Dean Academic Prof. to the function. Jaya Chaturvedi, Dean Examination Prof. Prashant Patil and Dean Research Prof. Vartika Saxena also addressed.
In the ceremony organized under the supervision of Dr. Jayanti Pant, Associate Professor, Department of Physiology, Prof. Shailendra Handu, Prof. Latika Mohan, Prof. Shalini Rao, Prof. Balramji Omar, Dr. Rajneesh Arora, Dr. Geeta Negi, AMS Dr. Anshuman Darbari, Dr. Monika Pathania, Dr. Manisha Naithani, Dr. Vandana Dhingra, Dr. Venkatesh S. Pai, Principal College of Nursing Dr. Smriti Arora, Colonel S. Siddharth, Registrar Rajiv Chaudhary, Senior Administrative Officer Shashikant, AO Gaurav Badola, Public Relations Officer Harish Mohan Thapliyal, Law Officer Pradeep Chandra Pandey etc. were present.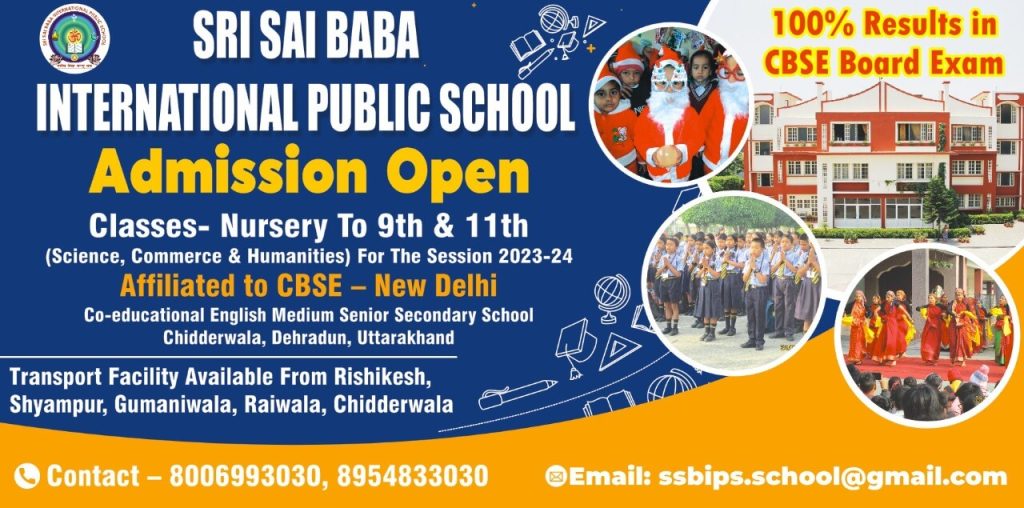 To get latest news updates -