Rishikesh: We are Working for Youth to Join Yog and to save the Environment, International Yoga Day will be dedicated to humanity: Swami Chidanand Saraswati Maharaj
The official International Yoga Day of Devbhoomi Uttarakhand will be organized in Parmarth Niketan :Swami Chidanand Saraswati Maharaj
Manoj Rautela Reports:
Rishikesh: The Seva Saptah Mahotsav, organized on the 70th birthday of Parmarth Niketan President Swami Chidanand Saraswati Maharaj, concluded on Friday.
Watch What Swami Chidanand Saraswati Maharaj Said-
On this occasion, it was decided in the Parmarth Niketan family that on June 21, the whole world including India would celebrate the eighth International Day of Yoga. It will be dedicated to humanity.
Parmarth Niketan family will create 1000 gardens of 70 plants in all major cities. A large number of Rudraksh plants will be planted in Haridwar, Rudraprayag, Uttarkashi, Ayodhya. At the same time, Swamy said that he is working on a large scale regarding environment and yoga. Especially the youth will have to earn to connect with it. This is happening on a large scale in the coming times. Swamy said that the Government of India has announced about the Blue Economy, they have started work on it a year ago. There is a doctor from Mumbai, work is going on with his cooperation.
Swami Chidanand Saraswati Maharaj said that he would start work from Uttarkashi. Where local youth will get employment. Which will help in stopping migration. There is a plan to adopt the area near Devprayag temple as well. Work is going on that too. He informed that there are many projects in the coming time, due to which the atmosphere here will change and it will feel like we are roaming in some Europe. Roads, abuses, elevated roads etc. will all be developed.
At the conclusion of the Seva Mahotsav, the President of Parmarth Niketan, Swami Chidanand Saraswati said that on June 21, International Yoga Day will be celebrated with the theme of Yoga for Humanity. The official International Yoga Day of Devbhoomi Uttarakhand will be organized in Parmarth Niketan. It has been announced by the Central Government to celebrate Yoga Day in 75 cities of the country. In which this program will be organized at Har ki Pauri, Kedarnath and Nainital in Haridwar, Uttarakhand. The state government has also made separate preparations for this event in 75 cities. In this, this program will also be organized on a large scale in Parmarth Niketan. Parmath has been selected by the state government. Not only Parmarth Niketan Ghat but Purnand Ghat and Triveni Ghat area will also be included in it. Swami Chidanand informed that the Parmarth family has decided to plant 70 thousand saplings during the Seva Saptah Mahotsav. In which 1000 gardens of 70 plants will be built in different cities of India.
Sadhvi Bhagwati Saraswati said that at the age of 25, she had taken initiation from Swami Chidanand Saraswati Maharaj for sannyasa. Till now she has dedicated the remaining 25 years of her life to Go Seva, Rishi Kumar Seva and Ganga Seva. Compared to the 25 years spent with the family, the 25 years spent with the Ashram family have been very proud for her. She said what she found is everything that was left was nothing. She is a scientist. She also looks at the environment and spirituality from a scientific point of view. But she said thats nothing but what she has now that is important and most important. And she is blessed and she heard only swami ji after meeting him. She has learned lot here in India and especially in Rishikesh after entering in to spiritualism. She lives in a simple way and likes that.
After Ganga Aarti on Thursday evening, famous bhajan singer Kanhaiya Lal Mittal forced the devotees to dance till late night by performing hymns.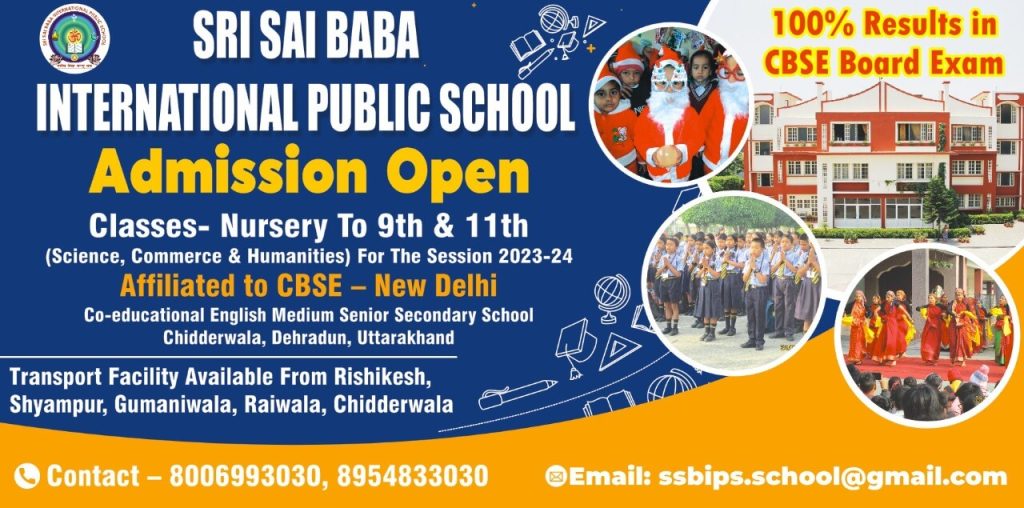 To get latest news updates -