Rishikesh: Two-day sports competition of NGA duly concluded, Olympian Manish Rawat was the chief guest
Rishikesh: If you want to see the discipline in a school, if you want to see the timing, how the work is to be done, how the children are to get disciplined, then you come Directly to see the NGA.
On November 11 and 12, 2022, a two-day grand sports competition was organized in the sports premises of Nirmal Ashram Gyan Daan Academy (NGA), which was duly concluded with great enthusiasm on Saturday. #NGA
The annual sports competition was celebrated with pomp in the blessings of Nirmal Ashram Mahant Baba Ram Singh Ji Maharaj and in the dignified presence of Sant Jodh Singh Ji Maharaj. Sports teachers Dinesh Painyuli and Poonam Chauhan played a special role in conducting the competition in a splendid manner, as well as the principal of the school, Sunita Sharma, the Vice Principal, Staff Members and others who are members of the management had a special role. This school is from class 1st to class 12th and more than 1000 students and girls get free education in it.
Olympian Athlete Inspector Manish Singh Rawat of Uttarakhnd Police was the Chief Guest and special guest Puran Singh Dayal, Gram Sabha Kothar, Pauri Garhwal in the sports competition.
Manjit Singh, a student of class IX became the best athlete in the junior boys category and Gunjan the best in the senior category in the girls category. The athlete became Dipanshu Thapliyal of class 12 and Sukriti Prasad of class 12 in the girl's category. The Best Athlete was awarded the trophy by the Chief Guest, Manish Rawat.
Prateek Singh Negi stood first in Frog Race by students of class I and II, Hema Sharma stood first in Skipping Race, Class I. In 200 meters race, Dipanshu Thapliyal from Boys category and Muskan Kashyap class 12th student won in Girls category. Kuldeep Singh from Kush Sadan of class XII secured first position in 800 meters race. Aman Tyagi, Manjeet Singh, Rishabh, Deep Singh, Rhythm Kaur, Gunjan, Anushka got first place in 400m relay race. Adarsh ​​Rajbhar is third in 100 meter cycle race and Meet Upadhyay is in first position from class 9, Love Sadan. Sukriti Prasad, a student of class XII secured first position in high jump. Aditya Pokhriyal Shravan Sadan secured first position in javelin throw. With this the first round of competitions came to an end.
The second phase competition was held on 12 November 2022. In which the chief guest was Inspector Manish Singh Rawat. Under the able leadership of NGA's sports coach  Dinesh Prasad Panyuli and Poonam Chauhan, Junior and Senior sections showed their good performance in different competitions.
A very beautiful presentation of dumbbell drill and Zumba dance was given by the girls of junior class. Bhumika, secured first position in 200m cycle race. A beautiful performance of Walloon Race was done by the girls of class I and II. After passing all the stages of the competition, Kush Sadan secured the first position and won the overall championship trophy as well. Prahlad and Shravan Sadan came second respectively. and placed third.Kush Sadan also won the march past trophy in the competition. The program was efficiently conducted by school teacher Amit Rana and teacher Jyoti Pawar.
Guests who attended the program were Olympian Inspector Manish Rawat, Ritu Patwari, DP Raturi, Atmaprakash Babu, NDS Principal, Lalita Krishna Swamy, Principal of NGA Sunita Sharma and headmistress, Amritpal Dhanak expressed gratitude to all the guests present. All the teachers and students were present on this occasion.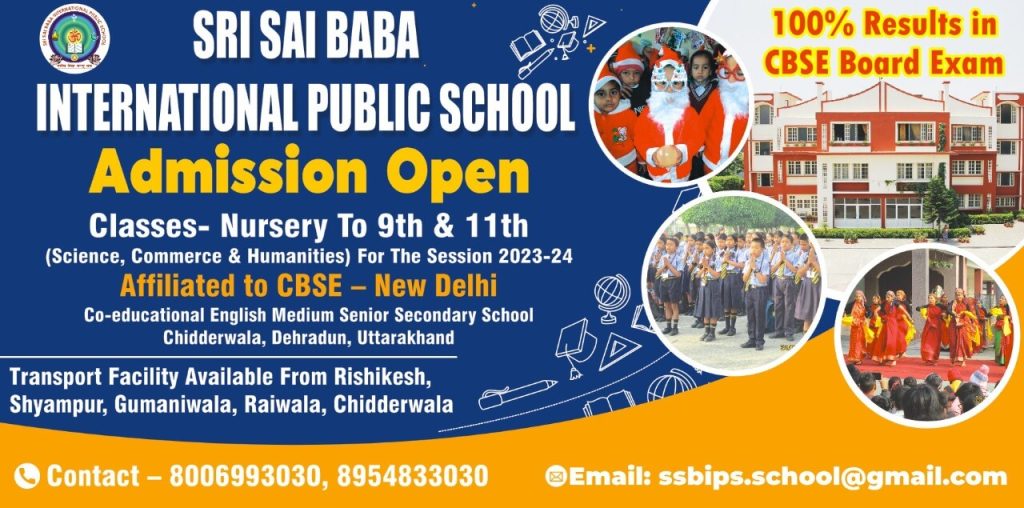 To get latest news updates -