Rishikesh: Players and Coaches were honored with Eklavya and Dronacharya Award by AVAADA Foundation
Players and Coaches praised AVAADA Foundation Chairman Vineet Mittal for the work being done for the Upliftment of the society.
Manoj Rautela Reports:
Rishikesh: 'AVAADA Foundation' has awarded about fifty players and fifteen sports coaches (coaches) who have excelled in various sports and participated in national and international competitions, who are themselves national and international sports medal winners.
Honored by giving citation, memento and Bhagavad Gita. During this he was given T-shirt, track suit and sports shoes. The Chief Guest in the program was Ritu Patwari and Guest of Honor Olympian Athlete and Sub Inspector of Uttarakhand Police Manish Rawat. The honoring ceremony for the hard work and strong will of the players took place on the occasion of the conclusion of the 10-day training camp organized by the Uttarakhand Sports Association at the Sports Ground of Amar Jyoti School, Shyampur. During the camp, young players from several schools of Rishikesh area learned the tricks of the game. The program was coordinated by the secretary of the association, Dinesh Panuli.
To encourage the players, the talent of these players was honored by Foundation's Trustee and North India Chief Ritu Patwari.Speaking on the occasion, Patwari while addressing the player students said that the way they have improved themselves even in adverse circumstances and Achieving success while working hard is truly exemplary. Talking about the foundation, he said that Avada Foundation, under its youth development program, is providing youth with employment skills, grooming sports talents, providing first aid training, career counseling, giving scholarships to poor students, sponsoring talented players, Honoring them and motivating them is doing many things across the country. He further said that "a few months back, we had organized a BE Champion program in ten schools of Rishikesh and taught the students the tricks of becoming champions. But today I have seen that you are already champions. Salute to all of you for your spirit." I have no hope that you will take your inner champion further like this:"
A total of 50 sportspersons were honored during the programme, in which sports coaches are also included. In which the main names are. Deveshwarprasad Raturi (Hockey Coach and Retired Indian Air Force Officer), Kulbir Singh (Sports Coach and National Netball Participant Player), Nagesh Rajput (Senior Sports Kho-Kho Coach) Pooja Gusain (Sports Coach and Cricket Coach and Shrestha Bharat Medalist) Dinesh Prasad (International Gold Medalist and Sports Coach) Rajesh Chandra Bhatt (Sports Coach and President Uttarakhand Sports Association) Aradhana (Yoga) Dinesh Painuli, Secretary, Uttarakhand Sports Association Expressed gratitude to Vineet Mittal, Chairman of Avada Group, North Zone Head of Avaada Foundation and Trustee Madam Ritu Patwari for the cooperation of players and coaches.
During this program, Sher Singh Thapa (International Gold Medal, Tug of War), Abhishek Ragand (International Gold Medal, Football), Vanshika Kandwal (National Medalist – Karate), Abhishek Negi (National Level Football Silver Medalist), Ayush Uniyal (National Gold Medalist) Medalist, Football) Pinky Payal (National Medalist) Himanshu Panwar (National Participant Tug of War) Prachi Tomar (National Level Kho-Kho Participant Player and State Level Medalist) Aditya (Gold Medalist, Yoga) Shalini Panwar (100m Bronze medalist in race) Monika Vyas (silver medalist in state level athletics) Aryan Bisht (volley ball international level gold medalist) Saurabh Chamoli (national level silver medalist in football) PTI Poonam Chauhan and other young players from many schools of Rishikesh were present. .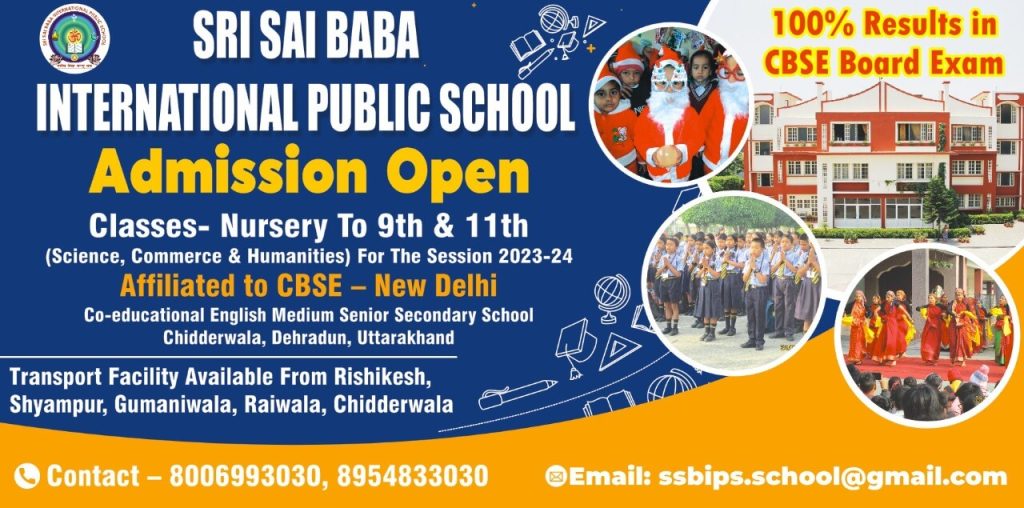 To get latest news updates -