Rishikesh : 'Irina Naam'  is like a flower's Petals of Reiki, Yoga, Meditation and Crystal Healing to help others
Irina has dedicated her life to improve the mental health and wellness of others
Manoj Rautela Reports:
Rishikesh (India) : Irina Azarkh, better known by her unique Sanskrit (Ancient Language from India) name, "Irina Naam," is the founder and leader of her transformational spiritual practice, of the same name,which combines the unique ancient principles of reiki, yoga, meditation, and crystal  healing, to help others improve their mental and physical wellness.
  Originally from Moscow in Russia, Irina received her training in these ancient disciplines in Rishikesh, India, which she calls her second home. It was here in India that she was introduced to the art of holistic healing and the transformational impact that these disciplines can haveon the lives of others.  She has studied and received extensive hours of training in the art of yoga, reiki, meditation, and crystal healing to help others lead more peaceful and balanced lives. With Irina Naam, she offers holistic wellness retreats, seminars, and daily instruction to people of all ages and all occupations, where she teaches others how they can use meditation, yoga, and reiki to achieve better life outcomes. Most importantly, Irina Naam is available to all, regardless of age, race, gender, nationality, religion, caste, or creed.  She believes that harmony comes from learning how to become better aligned with your mind, body, and spirit. Those that have received her services have experienced greater internal balance and relief from many physical, emotional, and mental ailments. There are also lasting health benefits for those that practice yoga and ancient "naam" meditation practices, such as therapeutic advantages, managing inflammatory conditions, reducing anxiety, helping improve sleep, among other advantages.
When speaking about the positive impacts of meditation, for example "naam" addresses the root of intrusive thoughts that create depression, fear, anger, worry, doubt, or negative emotional states, and helps quiet the mind with breath, sound, intention, mindfulness, and hand postures. Quieting the mind and practicing mindfulness helps overcome these negative reactions and creates resiliency against stress and anxiety. When used alongside yoga, reiki, and crystals, it becomes an even more powerful tool for others to experience freedom, peace of mind, and joyfulness.
Irina has dedicated her life to improve the mental health and wellness of others by teaching them how to remove thesenegative thoughts from their mind, including self-sabotaging thoughts and self-limiting beliefs. In its place, herpractices leave the mind free from clutter, thoughts, compulsions, and negative mental conditioning based on past negative life experiences. Through this process, Irina has attracted many loyal followers from all over the world. She commands a strong social media following and has held retreats and seminars in many places in the world, in Rishikesh, Goa, Bali, Indonesia, Dubai, Moscow, and the Maldives.
She visits Rishikesh, India, now for the third time and claims it has been a deeply spiritual and magical experience every time that she visits. She has held seminars and given instruction in the area on the sacred River Ganges, on the Holy Banks of Mother Ganga, delivering a unique spiritual experience complete with practicing meditations, devotional songs, and mantras.
During her visit, she met for the first time Pujya Swami Chidananda Saraswati, one of the most prominent spiritual leaders, and most revered sages of Rishikesh, India. Pujya Swami Chidananda is the President and spiritual leader of the Parmarth Niketan Ashram, a spiritual institution based in Rishikesh, India.He is also the founder and spiritual leader of the Hindu Jain Temple in Pittsburgh and is the founder and co-founder of several humanitarian and environmental organizations that preserve and protect the Ganges River, and provide education, healthcare, youth welfare, and vocational training to the local community.
Irina had the honor and unique privilege of being presented with a special gift, the rudraksha tree of life at a ceremony where Pujya Swami Chidananda Saraswati welcomed her arrival to the Ashram. The rudraksha is a stone fruit produced by a broad-leaved tree used in prayer beads and rosaries. The stones are associated with the Hindu deity Shiva (Bhole Shankar) and are commonly worn for protection and for chanting mantras such as Om NamahShivaya.  The stones are primarily sourced from India and Nepal and considered highly prized and valued.
Like Pujya Swami Chidananda Saraswati, Irina is also a philanthropist, social leader, and humanitarian. Her experiences in India have left her forever changed and have called her to a life of service. In collaboration with the Wahoe Commune, a registered non-governmental organization (NGO), Irina Naam has been promoting the welfare of impoverished women and children in India and Nepal for 5 years. Irina Naam currently operates programs benefitting the Wahoe Commune, that support the education, empowerment, upward mobility, and nutrition of children and families currently living in the slums of Delhi, Agra, Rishikesh, Jaipur, Shimla, Pabbar Valley, the Himalayas, and Nepal. Her programs and gracious contributions have been a vital source of support for over 300 women and children on an annual basis. She has also brought thousands of students to volunteer and assist with the Wahoe Commune's programs throughout India. Irina is deeply passionate about her work and is an influential leader dedicated to improving the social advancement of the less fortunate and wellbeing of others.
About Pujya Swami Chidananda Saraswati-:
H.H. Pujya Swami Chidanand Saraswati ji's motto in life is, "In the Service of God and humanity." Selflessly dedicated to the welfare of all, he leads, directs, and inspires numerous, wide-scale service initiatives. Touched by the hand of God at the tender age of eight, Pujya Swamiji left his home to live a life devoted to God and humanity, spending his youth in silence, meditation, and austerities high in the Himalayas. At the age of seventeen, after nine years of unbroken, intense sadhana, he returned from the forest—under the orders of his guru—and obtained an academic education to parallel his spiritual one. Pujya Swamiji has master's degrees in Sanskrit and Philosophy as well as fluency in many languages.
Pujya Swamiji is President and Spiritual Head of Parmarth Niketan Ashram, Rishikesh, India, one of the largest interfaith, spiritual institutions in India. Under his divine inspiration and leadership, Parmarth Niketan has become a sanctuary known across the globe as one filled with grace, beauty, serenity and true divine bliss. Pujya Swamiji has also increased several-fold the humanitarian activities undertaken by Parmarth Niketan (https://www.parmarth.org/). Now, the ashram is not only a spiritual haven for those who visit, but it also provides education, training, and health care to those in need.
Pujya Swamiji is also the Board of Trustees of the India Development Foundation of Overseas Indians (IDF-OI). IDF-OI was set up by the Government of India in 2008 as a not-for-profit Trust to facilitate Overseas Indian philanthropy into social and development projects in India.
He is the Advisory Board of KAICIID (King Abdullah Bin Abdulaziz International Centre for Interreligious and Intercultural Dialogue), which is an intergovernmental organization whose mandate is to promote globally the use of dialogue to prevent and resolve conflict and to enhance understanding and cooperation among different cultures and religions.
Pujya Swamiji's religion is unity, and he has been a leader in numerous international, inter-faith summits and parliaments, including at the United Nations, the World Bank, the World Economic Forum and the Parliament of Religions as well as with Religions for Peace, KAICIID, the Hindu-Jewish Summit in Jerusalem, the Hindu-Christian dialogue by the Vatican and so many others. He is also a leader of frequent world peace pilgrimages across the world.
Pujya Swamiji is the recipient of innumerable awards, including the World Peace Ambassador Award, Mahatma Gandhi Humanitarian award, Hindu of the Year Award, Prominent Personality Award, by Lions' Club, Best Citizens of India Award, the Uttaranchal Ratan Award and many more.
However, Pujya Swamiji seems unaffected by this incredible list of accomplishments and remains a pious child of God, owning nothing, draped in saffron robes, living a life of true renunciation. His days in Rishikesh are spent offering service to those around him. Thousands travel from across the globe simply to sit in his presence, to receive his "darshan." He travels the world, bringing the light of wisdom, inspiration, upliftment, and the divine touch to thousands across the world.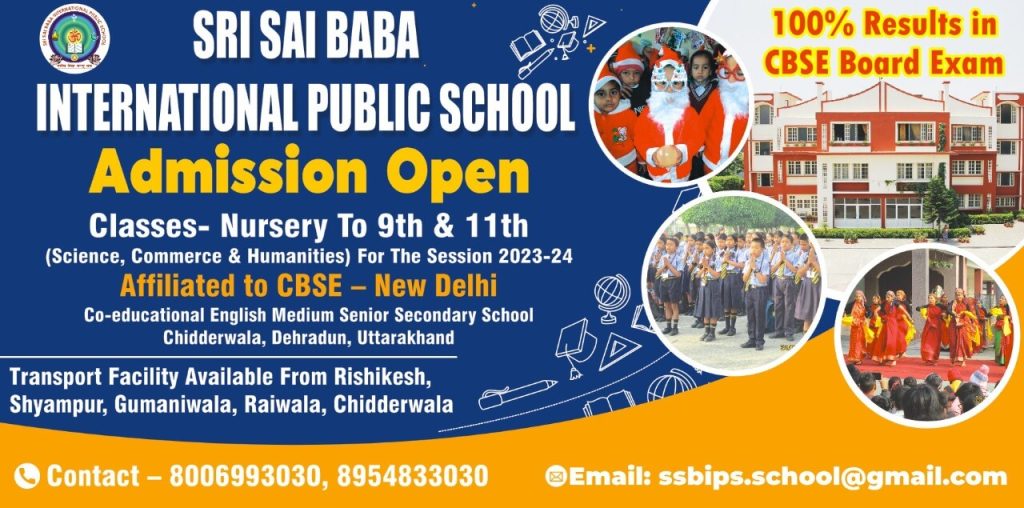 To get latest news updates -