Haridwar : Alaknanda handovered to Uttarakhand, Bhagirathi inaugrated for Uttar Pradesh by CM Yogi and CM Dhami
Haridwar : The newly constructed Bhagirathi Tourist Accommodation House of Uttar Pradesh was inaugurated by the Uttar Pradesh Tourism Department in Haridwar on Thursday. On this occasion the Alaknanda Tourist Accommodation House was transferred by the Government of Uttar Pradesh to the Government of Uttarakhand. Uttar Pradesh Chief Minister Yogi Adityanath handed over the keys of the Alaknanda Tourist Residence to the Chief Minister of Uttarakhand, Pushkar Singh Dhami. The Uttar Pradesh Tourism Department has provided 100 rooms, banquet hall and 150 four-wheeler parking facilities in 2964 square meters of Bhagirathi Tourist Accommodation at a cost of Rs 43.27 crore.
Uttar Pradesh Chief Minister Yogi Adityanath said that after the formation of Uttarakhand state, property dispute was going on in Uttar Pradesh and Uttarakhand. After the formation of the BJP government in both the states in 2017, there was a positive initiative for property sharing. In November 2021, almost all the matters related to property distribution were resolved. Yogi Adityanath said that today the Government of Uttarakhand has got Alaknanda Tourist Accommodation and Bhagirathi has become a tourist accommodation in Uttar Pradesh. When the Alaknanda and Bhagirathi rivers meet, then it is called Ganga. The governments of both the states will work together to realize the dream of Prime Minister Narendra Modi's Ek Bharat Shreshtha Bharat. The Chief Minister of Uttar Pradesh said that all possible help would be given to Uttarakhand by the Uttar Pradesh government in every field.
Uttar Pradesh Chief Minister Yogi Adityanath said that Uttarakhand is Devbhoomi. Uttarakhand can attract more than 100 crore Indians. The Chardham and Mother Ganga of Uttarakhand attract devotees to come here. Along with spiritual tourism, Uttarakhand has immense potential in the field of eco-tourism. We all have to join the vision of the Prime Minister for the overall development of the country. Kedarnath Dham has been transformed under the guidance of the Prime Minister. Fast work is also being done for the development of Badrinath and Haridwar. He said that the feelings and sentiments of Uttar Pradesh and Uttarakhand are similar. There are immense employment opportunities in Uttarakhand in the field of tourism. Yogi Adityanath said that Uttarakhand is also his motherland. Chardham Yatra has started in Uttarakhand, Uttarakhand will have to be given global recognition by presenting an excellent example of hospitality.
Uttarakhand Chief Minister Pushkar Singh Dhami thanked the Chief Minister of Uttar Pradesh Yogi Adityanath for the dedication of Bhagirathi Tourist Accommodation House at Haridwar and transfer of Alankananda Tourist Accommodation House to Uttarakhand. He said that in the meeting held between the two Chief Ministers in November 2021 regarding the distribution of assets between Uttar Pradesh and Uttarakhand, all the matters were resolved by Yogi Adityanath, it is commendable. He performed the duty of an elder brother. Today a new India is being built by material and spiritual development. Yogis are continuously working to advance spiritual consciousness.
Under his leadership, Uttar Pradesh is on the path of continuous progress. Uttar Pradesh is becoming Uttam Pradesh. Chief Minister Pushkar Singh Dhami said that Uttarakhand is making rapid progress in every field under the guidance of Prime Minister Narendra Modi. Road, air and rail connectivity has spread rapidly in the state. The reconstruction work of Kedarnath has been done rapidly. Badrinath is being given a more grand appearance. To make India Vishwaguru, we have to fulfill the dreams of Prime Minister Narendra Modi together.
On this occasion, Uttarakhand cabinet ministers Satpal Maharaj, Premchand Agrawal, Ganesh Joshi, Dr. Dhan Singh Rawat, Mr. Chandan Ram Das, MP and former Chief Minister Dr. Ramesh Pokhriyal Nishank, BJP state president and MLA Madan Kaushik, Uttar Pradesh minister Jaiveer Singh , Brijesh Singh, Kapil Dev Aggarwal and Santgan were present.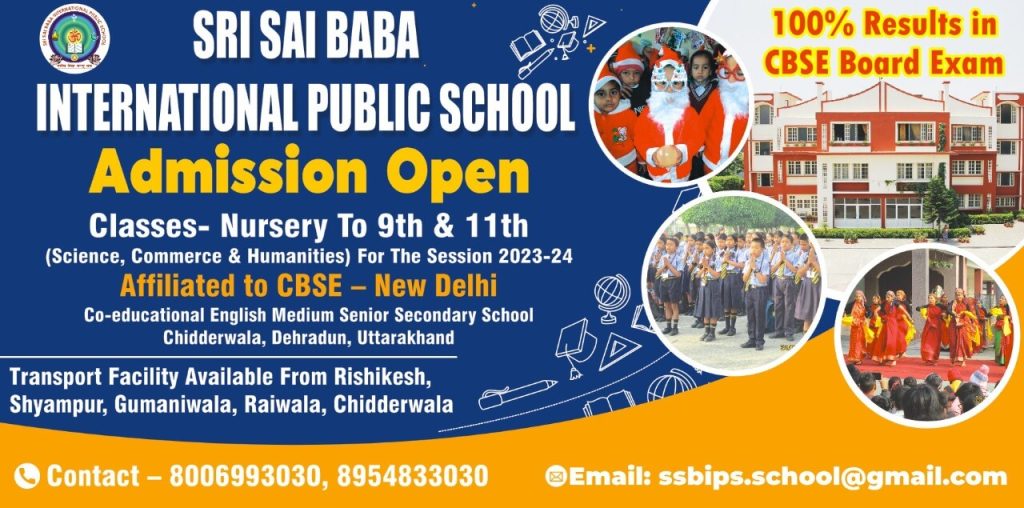 To get latest news updates -